---
Can be Order Until Stocks Exhausted

VIVOTEK ND8401 is a 16-CH Network Video Recorder designed for sophisticated recording applications. The unit is equipped with an Intel Dual-core Atom processor with maximum record throughput in a robust 96 Mbps. RAID 0/1/5/10 is supported with 4 removable hard drives for backup efficiency, with an external eSATA port for additional expansion. VIVOTEK NVR series, the ND8301 is a local monitor output port, is now available with full HD resolution (1920X1080), eliminating the need for a separate PC to view video from the device. Set up parameters such as IP, HDD, and basic camera configuration can be easily done with the setup wizard, which makes the ND8401 to the NVR easiest to use. When you connect the ND8401 to more than one of the same model of VIVOTEK camera, "Shepherd" program used to duplicate the configuration settings to multiple cameras.
The operating system in ND8401 is VIVOTEK's professional central management software "VAST", allowing for simple and effective management of a monitoring system Live Client and playback programs. Vivotek's camera functions are fully integrated in VAST, cutting-edge technologies such as SVC and Activity Adaptive Recording can be utilized to save bandwidth and optimize the recording. A CMS server running VAST software can also directly control the ND8401, and compatibility with iViewer app's that allows remote access to the ND8401 on handheld devices. By integrating all the components together using VIVOTEK's ND8401, network cameras, VAST and iViewer software, users can realize a full and robust monitoring system.


High security:
Automatic start-up in case of power failure is of course also Integrated.

Features - Hardware
• Dual-core Intel ® Processor AtomTM
• RAID 0, 1, 5, 10 for efficient and reliable recording
• 4 Bay Removable HDD Tray, Max. 12TB
• External eSATA interface
• Full HD Local Display
• Standalone Desktop NVR Design
• Dual Gigabit Ethernet ports
• USB Port * 4
• Compact size: 204 mm (W) x 330mm (D) x 215 mm (H)

Features - Software
• Easy installation and configuration (Shepherd / Setup Wizard)
• VAST Inside (Live Client / playback)
• Real-time 16-CH Live View & 4-CH Synchronous playback
• H.264, MPEG-4 and MJPEG
• Multiple Record Types & Event Trigger Sources
• More video Search Modes
• E-cards
• Supported by VAST Central Management Software (CMS VAST, coming in Q1 2013)
• Full integration with all Vivotek network cameras
• VIVOTEK iViewer Support (iOS / Android)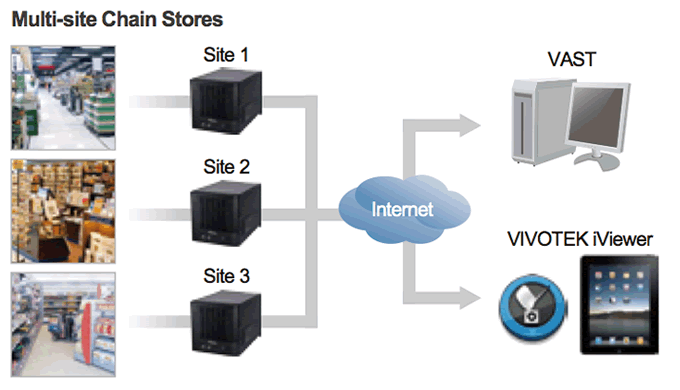 REMEBER to order a HDD too.
Datasheet
Quick Guide
Product View
Div. Download
See Video ND8401 Setup
| | |
| --- | --- |
| Stock Location | DSV Horsens |